Ramadhan Fundrising :: Ifthar for Thailand
Date: 07 May 2018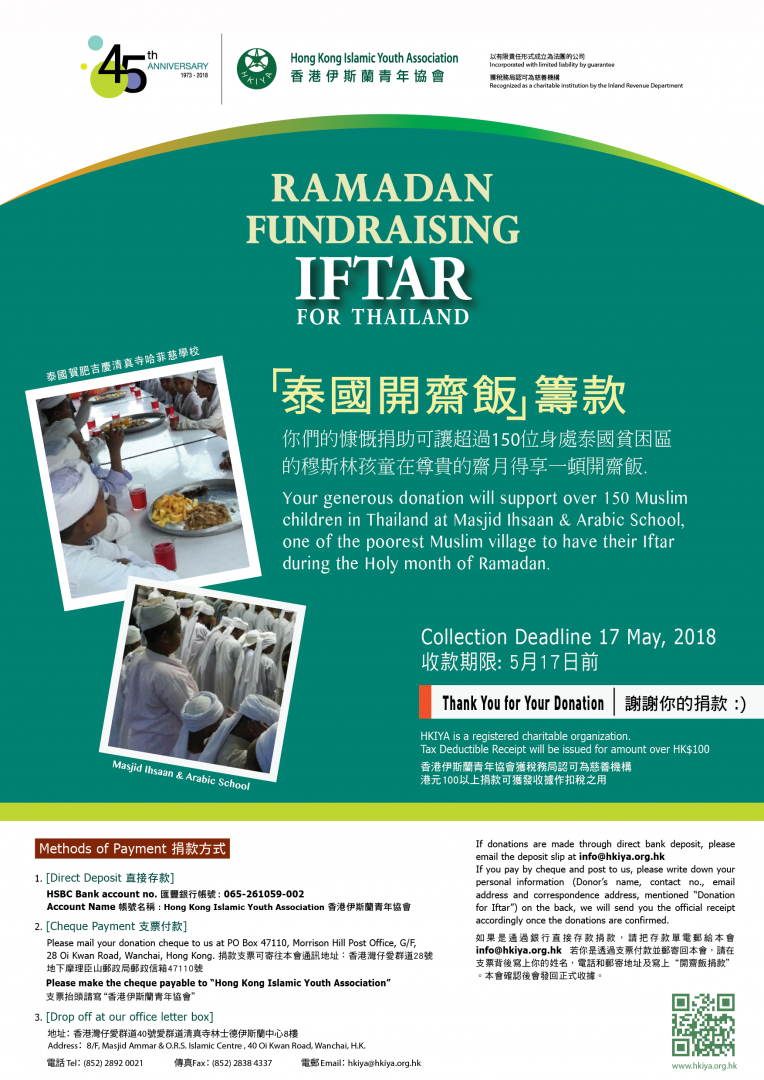 Your generous donation will support over 150 Muslim children in Thailand at Masjid Ihsaan & Arabic School, one of the poorest Muslim village to have their Iftar during the Holy month of Ramadan.
Collection Deadline 17 May, 2018
Methods of Payment:
1. Direct Deposit
HSBC Bank account no.: 065-261059-002
Account Name 帳號名稱 : Hong Kong Islamic Youth Association 香港伊斯蘭青年協會
2. Cheque Payment
Please mail your donation cheque to us at PO Box 47110, Morrison Hill Post Office, G/F,
28 Oi Kwan Road, Wanchai, Hong Kong.
3. Drop off at our office letter box
If donations are made through direct bank deposit, please email the deposit slip at info@hkiya.org.hk
If you pay by cheque and post to us, please write down your personal information (Donor's name, contact no., email address and correspondence address, mentioned "Donation for Iftar") on the back, we will send you the official receipt accordingly once the donations are confirmed.
---
泰國開齋飯 籌款
你們的慷慨捐助可讓超過150位身處泰國貧困區 的穆斯林孩童在尊貴的齋月得享一頓開齋飯.
收款期限: 5月17日前
捐款方式
1. 直接存款
匯豐銀行帳號 : 065-261059-002
帳號名稱 : 香港伊斯蘭青年協會
2. 支票付款
捐款支票可寄往本會通訊地址:香港灣仔愛群道28號
地下摩理臣山郵政局郵政信箱47110號
如果是通過銀行直接存款捐款,請把存款單電郵給本會info@hkiya.org.hk 若你是透過支票付款並郵寄回本會,請在支票背後寫上你的姓名,電話和郵寄地址及寫上"開齋飯捐款"。本會確認後會發回正式收據