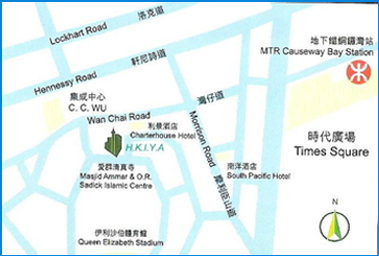 HKIYA
8/F, Masjid Ammar & O.R.S. Islamic Centre,,
40 Oi Kwan Road,
Wanchai,
Hong Kong.
Office Coordinator:
Sr. Fatimah, Ong Yuen

Office hours:
Monday, Wednesday to Sunday 12:00 - 17:00
Please leave voice mail at 28920021 or email to hkiya@hkiya.org.hk
Feel free to contact us for:
1) Free Islamic literature (Quran...etc) in Traditional Chinese and/or Simplified Chinese and/or English and/or Urdu.
2) A tour of a Mosque
3) Interviewing with our Muslim youths, adults...etc.